Ugh. Monday. Today was not super productive but I ended up working for awhile (yesterday) so I guess I had some free time coming to me! Chapter Four (the fabulous results chapter!) is coming along; I am hoping to have it done by Thursday so I can get started on the last big chapter that I need to complete before our trip to Scotland at the beginning of July.
And while we are on that subject, how 'bout I hijack this blog for a few minutes so I can tell all you readers on the well-planned (at least I hope!) trip we have devised! Let's start with a map! I didn't do a very good job trying here trying to show our overall movements in the country) it was my first time playing around with
routebuilder.org
) but this is it in a nut-shell:
July 4: We leave St Louis at 3:30 PM (Chicago and then Manchester, UK)
July 5: We arrive in Manchester, take a train to Glasgow, and then we crash in a hotel for the night (we have already booked a hotel that is -- get this! -- in the Central Train Station and is something like a five star hotel! Super excited to get pampered after a long day of traveling!)
July 6: Next -- Pick up rental car after first slumber in Scotland. This might be interesting since we are getting a manual and we have to figure out awfully quickly how to drive on the other side of the road while shitfing with the other hand!). Later in the day we will be taking a ferry from Kennacraig to Port Ellen (Island of Islay). We will then be checking in at Octofad B&B.
July 7- July 10: Imagine all of these days spent visiting the island (where Scottish Gaelic is spoken by about a quarter of the population!) but in particular we will be touring the eight active whiskey distilleries on the island. According to Jim, these distilleries specialize in whiskey that has a more "peaty" taste -- his favorite! -- so that explains the trip to this specific island! Though I am not a whiskey drinker myself, I am excited for Jim and I suspect that I will learn a thing or two about whiskey! Who knows! I might leave liking the stuff! And check out the beauty of this island in the picture below! Amazing!
July 11
: We depart the island via Port Ellen and Kennacraig and then drive to Fort Augustus (in the Highlands!) and check in at Glen Mor (renovated 19th century abbey). Click
here
to for the web site.
(Check out how fabulous Glen Mor is -- yep! It's the castle-looking building in the middle!)
(Here is an indoor shot of a common area!)
(another outside image!)
July 12-17: Fort Augustus is located at the bottom of Loch Ness and so we will have almost a week to hang out and explore the area. And Jim's 50th Birthday is on July 17. I think we will have an amazing dinner at some local place! I sort of hope it's a rainy day so we can stay in most of the day and snuggle!
July 18: We leave Fort Augustus and drive back to Glasgow, return the rental car, and then jump on a train to Edinburgh. I am excited about our lodging here because we found a great place on airbnb.com. Sally's place is near Holyrood Park, just a few minutes from the central downtown area. Here are a few pictures from Sally's house and the spare room that we will be staying in: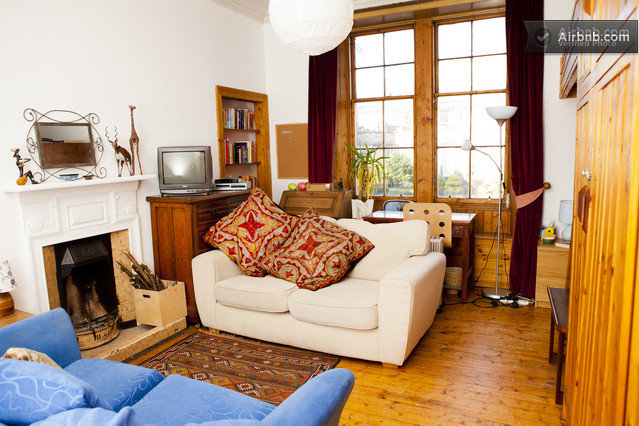 (
Click here
for additional pictures if you would like to see more of our Edinburgh digs!)
July 19-21
: A couple of days to tour Edinburgh. I am super excited because we have already purchased our tickets to see the Royal Yacht Britannia! (
Click here
for the web site!) I am a little bit of a royal family geek (Princess Diana played the piano on this boat!) And how cool is it that Princess Kate will be having her baby while we are in the UK?
July 22
: We need to leave Edinburgh in the morning and jump on train to the Lake District (in England). We will be going to a town that we first heard about via Rick Steves on PBS -- Keswick. While we are here, we will be staying at the Brundholme B&B.
Click here
for a short segment from his show that tells why it is important to come to the northern section of the Lake District as opposed to the more tourist-y southern part.
(This is the front of the B&B)
July 23-25: Lake District touring -- Just as Jim is excited about whiskey, I am super excited to see all the spots in the area related to the poet Dorothy Wordsworth (oh, yeah, and her brother William).
July 26: Our holiday is almost over. On this morning, we leave the Lake District and hop on train to Manchester and stay in a hotel room near the airport for one night.
July 27: Flight back to Saint Louis (via Chicago) in the morning.