I have had a few people ask me how my
Gwynnie Bee
clothing subscription is going (
click here if you have no idea what I am talking about
), and the answer to that question is --
fabulous
! I am almost a month in and have worn approximately 10 different items (wearing each about 2 times) and then returning for the next item in my virtual closet (I am on the 3 clothing pieces out at a time deal). I love being able to mix and match with items I already have and trying styles that I wouldn't try if left to my own devices (like this floral blouse that only lasted one try -- too many flowers even for me!).
Another cool think about this web site is that you can buy the clothing (supposedly at a reduced rate) if you decide that you want to keep an item. Well, I did decide to keep one Asos dress so far (the one below), something I really liked when I put it on and I thought it was just too pretty to send back.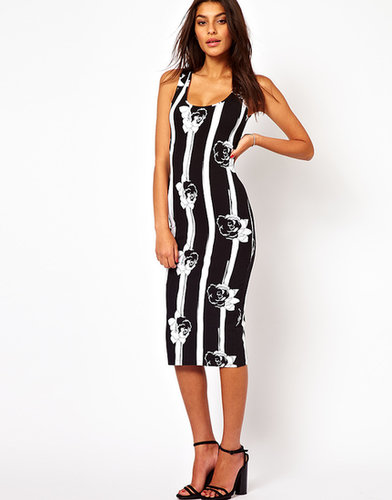 This is totally out of my comfort zone but I loved the feeling of embracing my curves. Anyway, I saw on the Asos web site that the dress was about $50 (I did my research before asking the price just so I would know if the quoted price was "fair"). When I asked Gwynnie Bee how much it was, I was quoted $22 so I went ahead and purchased it. Sure, it might have been worn a few times but it was in great shape! (still looked new to me!). My only frustration has been that so far the folks at Gwynnie Bee haven't taken this piece of clothing out of my virtual closet so I can get another item sent to me (I have emailed them about it and it is supposed to be taken care of soon).
Yesterday's mail came with another subscription idea that I heard about recently --
Umba Box
. So how does this work? You pay $30 a month and you get a surprise box with 2-3 items from independent artists/ businesses. As someone who supports small companies, I thought this was a great idea! (and I got my first box at 1/2 off because of a code I found when I read the original article about this concept). So here is the small box that came yesterday (super cute packaging, by the way!) with the two items that were selected for this month's box. Sitting on top of the box are the artist cards which explain the folks behind the two items.
Here are the two items. The item on the left is a set of four coasters from a small company called "Fox and Anchor Paper." I found their stuff on their Etsy site (
click here
). The coasters I received are selling for
$8
. According to the artist card, the two women behind this company run their paper through a press one at a time and then color the sheets individually. I am not sure that I am in need of any coasters but I figure that these might make a cute gift for someone (they have an adorable little bow tie pattern).
Here is a close up of the other item I received -- an amazing ceramic necklace that I love, love, love! The artist/ company behind this is the "Natasha K Collection" and she too has an Etsy shop:
click here
. This exact item retails on her web site for
$30
and is made of ceramic. It is in a half moon shape and it is super cute!
So the retail total was $38 for about the $15 I paid for this first box. Even if I had paid the usual $30 I think I would still be happy. This is an amazing way for these artists to get their work out and I now have at least one more Etsy page to check on a regular basis (the ceramic jewelry is so pretty!).